location_on
Phase 1 provides a guide for you to choose between applying for a plot of land through the Central Housing & Planning Authority or from a private individual/firm.
There are two ways an individual may acquire land for residential homebuilding, these are through:
Central Housing & Planning Authority
Acquiring a Land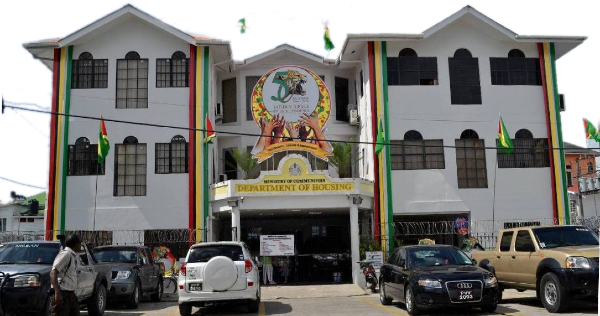 The Central Housing and Planning Authority, under the purview of the Ministry of Housing & Water, is responsible for the development of housing schemes and granting security of tenure, (Transports and Certificates of Title to Land).
You will be guided below on how to acquire a land through the Central Housing & Planning Authority.
The criteria for allocation of a house lot through the Central Housing & Planning Authority are:
Applicant must not be a property owner,
Applicant must attain the age of 21 yrs. and is a resident of Guyana for at least six months.
An applicant can either be single, married, or in a common-law relationship.
1. Applying for a House Lot
Applicants are required to do the following to apply for house lots:
Purchase an application form from either the:

Central Housing & Planning Authority
The Regional Housing Offices
The Regional Democratic Council in the Regions of 1,7 & 8

By completing the online application form using the following link: https://chpa.gov.gy/application-for-land-property/

Applications are to be completed and submitted to the Head Office or the Regional Housing Officers along with the relevant documentation to conduct an interview or uploaded online.
Applications in Regions 1, 7 & 8 are to be completed and submitted to the Head Office or the Regional Democratic Council. The CHPA will acknowledge receipt of these applications by sending 'Acknowledgement Letters' to the applicants.
If you have not received an Acknowledgement Letter, you are required to make contact with the Interview Section for a copy of this letter.
2. Interview for a House Lot
Once an application has been submitted (Regions 1, 7 & 8), applicants will be invited to attend an interview to assess whether they would qualify for a low, very low, or middle-income house lot.
For Regions 2,3,4,5,6,9 & 10, applicants are interviewed once they submit their application forms and relevant documentation.
Applicants are required to produce these documents at the time of the interview:
The acknowledgement letter

The notice for the interview
NB: The above mentioned letters are applicable for applicants in Regions 1, 7 & 8.

Children's birth certificates

Job letters/Payslip/Affidavit of Income

Rent receipts

Marriage certificate, Deed Polls are also required, if applicable.

Identification cards/Passports

Tax Payer ID
For more information on acquiring a land, kindly visit/contact the Central Housing & Planning Authority.
Address: 41 Brickdam & United Nations Place Georgetown, Guyana
Telephone Number: +592 223-6536
Facebook: Central Housing & Planning Authority | Facebook
Email: info@chpa.gov.gy
Private Purchase
Acquiring a Land
Acquiring land through private purchase provides you with more flexibility as it relates to the location of the land (rural or urban), the size, and other key characteristics of the land. However, this may be more costly.
There are little to no requirements when purchasing a land through private purchase.
In fact, having the required finance to make the purchase is what is needed to initiate the process.
If you wish to obtain finance through a financial institution, please refer to Phase 5.
There are a few steps that should be followed to ensure that you are not scammed.
1. Verify location, measurement and position of land
Request a copy of the boundary plan to ensure it corresponds with what was advertised.
Visit the site with a sworn land surveyor to verify the location, measurements, and position of the land.
2. Verify authenticity of land held by Transport/Lease and Title
If you're interested in purchasing a private property or a plot of land, the vendor's ownership and authenticity should be verified by following the below steps:
Talk with the land/property owner and request a copy of the transport/ title and take it into the Guyana Deeds Registry or the Land Registry to verify its authenticity. It would be useful to obtain a certified copy.
Request from the Guyana Deeds Registry/Land Registry, a verification that the property belongs to the proposed seller and is free of all encumbrances.
If you do not have a copy of the transport/title/lease you can still request this information if you know the lot/parcel number.
Once you have verified the legal owner of the land/property, you can now proceed to step 3.
3. Conveyance
Agreement of sale is prepared. You may need the assistance of a lawyer.
Read the document thoroughly to ensure you are in agreement with all the clauses before signing.
It is usual for a deposit to be paid on signing of the Agreement of Sale and purchase, and for the balance to be paid upon completion that is upon conveyance of transport, transfer of title or lease to the purchaser.
4. Registering Title, Lease or Transport
The process of moving the legal ownership of property or land from one person to another is facilitated by the following agencies in Guyana:

Guyana Deeds Registry – Georgetown, Essequibo & Berbice.
Land Registry – Georgetown, Essequibo & Berbice.

If the property or land is a transported/leased land the Deeds Registry will, after filing of the Conveyance/Transfer documents and payment of the processing fees place an advertisement in the official gazette and allow for a period of 14 days to elapse during which period anyone with an interest in the land is given an opportunity to oppose its sale/transfer. If there is no opposition, the relevant document/s would be transferred to the new owner.
Guyana Deeds Registry is responsible for administering the laws enacted by Parliament affecting land, whether by way of transport, leases, mortgages or any other alienation thereof, powers of attorney, contracts and other deeds.
Land Registry has purview by the Laws of Guyana over Certificates of Titles to Land.
What to do after you have purchased a land?
Surveying Tip
According to the Guyana Lands and Surveys Commission (GLSC), a survey is done to define a portion of land for the purpose of issuing title and to rectify or clarify boundary disputes.
A survey may be done for various reasons. In residential homebuilding, a survey is done to show the extent, value and ownership of land. This type of survey is known as a Cadastral Survey.
Factors to consider for a Cadastral Survey
Location of the land (Rural vs Urban)
Size of land
Cost of the land
List of Registered Land Surveyors
To access a list of registered land surveyors, click on the link below.
https://glsc.gov.gy/registered-land-surveyors/